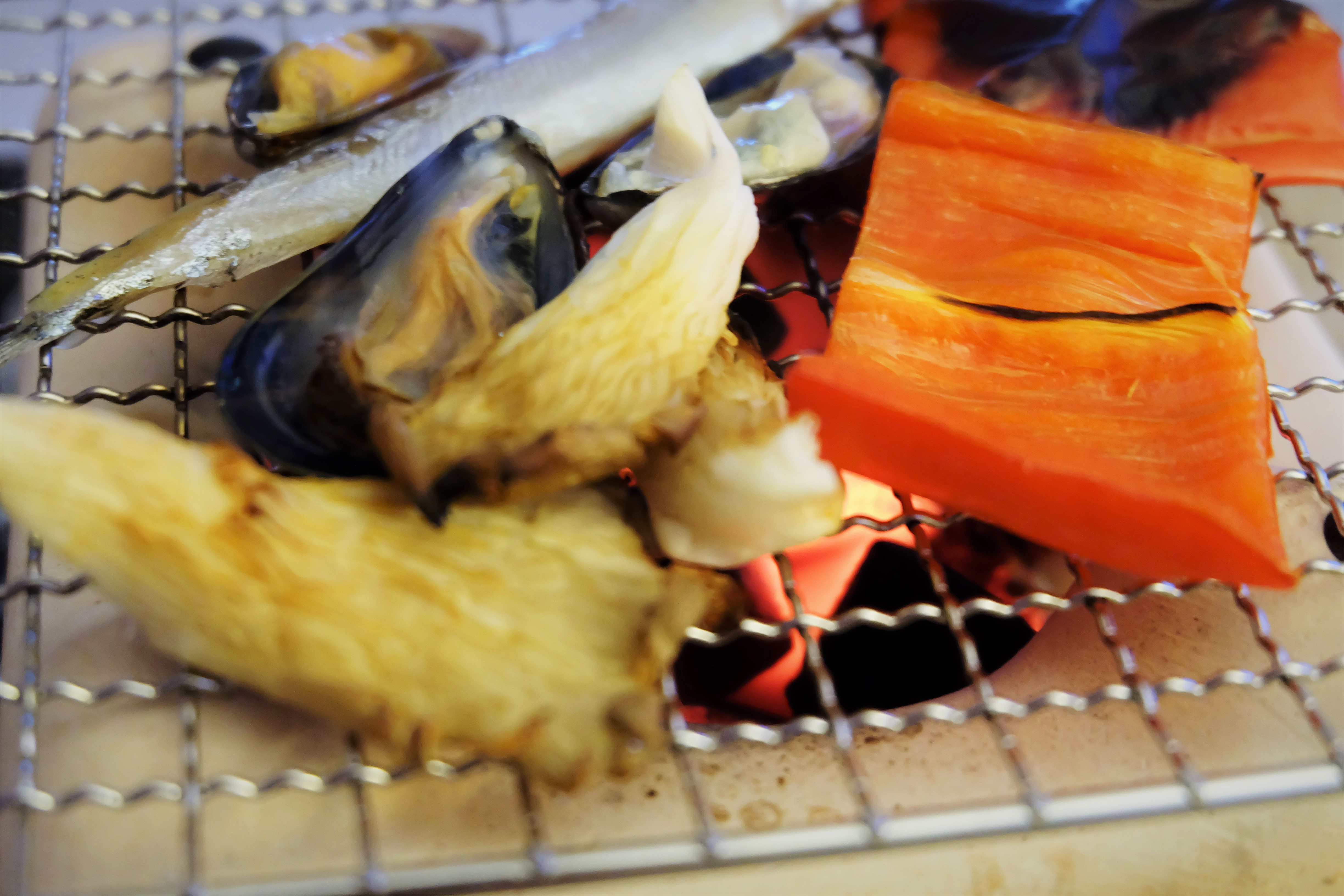 After my trip to Japan, what I appreciate about Japanese cuisine, apart from the central role played by fresh seafood, is the more delicate and refined way of grilling food. Yakitori ( 焼き鳥 – chicken skewers), Yakiniku (焼き肉 – grilled meat), and famous marbled Wagyu (和牛) beef from Kobe show how the Japanese understands the balance of juice, fire and grease in grill cuisine.
To understand, appreciate and execute Japanese grill at home, you will need to understand the following terms and concepts.
What is the name of the Japanese Table Grill?
A "Shichirin" 七輪 is a portable stove. The word literally means "seven wheels", for some strange reason. In use in Japan since the Edo period (since AD1603), shichirins are either made of ceramic or clay. Another word for shichirin is the "Hibachi" 火鉢, which can be translated into "fire bowl". This is because hibachi was used as a heating device in homes, before it became popularised as a cooking device.
A particularly popular version of Shichirin is the Hida Konro 飛騨こんろ. A Shichirin Hida Konro is made of a porous clay called Keisodo 珪藻土. Keisodo is made from burning diatomaceous earth – a naturally-occurring soft, white siliceous sedimentary rock that is found everywhere in Japan, and it contains fossilised marine plankton and volcanic ash. When made into clay, Keisodo 珪藻土 is light, porous and conducts heat evenly and withstands up to 1700℃.
The Shichirin Hida Konro is often wrapped in decorated Washi 和紙 paper, the word just means "Japanese paper". Washi is tougher than ordinary wood pulp paper, so it stands the heat from the stove.
What types of charcoal can be used in the Japanese Table Grill?
When using a Shichirin Hida Konro, do not use "normal" charcoal. Modern charcoal contains chemicals and produces a lot of smoke. You will not enjoy a good Japanese grill if the smoke destroys the flavour of your food, and that is often the problem with American and Australian barbecues and South African braai.
Instead, you should be using "Binchotan" 備長炭, a traditional Japanese charcoal that is also known as 'white charcoal'. Binchotan originates from Wakayama 和歌山, and was invented by a man named Bichūya Chōzaemon (備中屋 長左衛門) , hence the name means "Bin's long charcoal". Binchotan is made of "ubame oak" (Quercus phillyraeoides), now the official tree of Wakayama Prefecture. The best Binchotan comes from Wakayama, under the name of Kishu Binchotan 紀州備長炭, as Kishu 紀州 was the old name of Wakayama.
If you don't have Binchotan, like me. Replace it with organic, smokeless charcoal made from coconut husk.
Remember to use a natural and non-chemically treated firestarter.
So what goes on the Japanese Table Grill?
You can try your hand on making yakitori, or some yakiniku.
I did a simple preparation of Komochi Shishamo 柳葉魚 (smelt fish with roe), chili pepper, mussels, prawns and the Pleurotus ostreatus (oyster mushroom).
It goes super well with a sauce made with soy sauce, sesame oil, chilli powder and sesame seeds, and a good bottle of sake. Cheers!
Before you go, check out my post on Eating like a local at Yakitori Ton Ton 登運とん in Tokyo's Yakitori Alley.